Beclawat Manufacturing Inc. BELLEVILLE, ON, Canada
Beclawat Manufacturing Inc. is a Canadian owned company and became part of the Prelco Group of companies in April 2005. OEM supplier Beclawat is an OEM supplier to the railway industry as well as US Coast Guard and US Navy. The product line includes windows and doors for the marine, offshore, mass transit, military transport and specialized vehicle industries. Custom Made to Your Specifications Beclawat has extensive experience fabricating aluminum and steel as well as expertise in a wide variety of glazing technologies. From new construction to reworking an historical one-of-a-kind heritage window, Beclawat has the experience, capability and knowledge to support the most challenging transit, marine and industrial window project.
Aluminum Weathertight
Half Raised Aluminum Vertical Sliding Clamp-on/Bolt-on Window
Vent Top Opening Out Aluminum Bolt-on Watertight Window

unselect all/select all
You have 0 products selected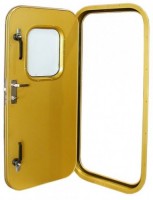 This aluminum weathertight door has an aluminum frame with a
bolt-on or clamp-in style frame. The frameless window is
available in thicknesses of 6-19mm with various tinting options.